I worked a number of years with this amazing woman, Amy Beth Pederson.  
She and I were speech-language pathologists in a birth to three program in Minnesota. I LOVED working with Amy.  We worked very well together and mutually respected each other's strengths. As years went on, Amy was drawn to other areas of interest – in particular, writing, photography, and mission work. She left her job as an SLP, and decided, with her husband's blessing, to pursue her other gifts. I was excited for her new adventures but missed her immensely.

Oh my! Her life certainly changed but not in what she expected or desired. 
Her life, and her family's life took a sudden turn when her husband, Seth, was diagnosed with a rare ocular melanoma at the age of 41. I wish I could tell you this story has a happy ending. It certainly doesn't. Seth passed away in March 2020 after a 5 year battle, just as the COVID-19 pandemic was starting. She is now a single parent of 3 children, age 17, 15, and 8.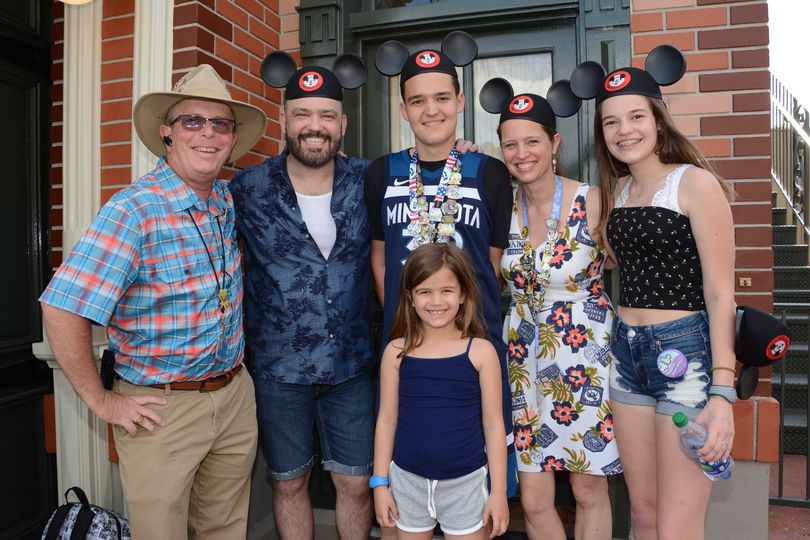 This is a picture of Seth, Amy, their 3 children, and a Disney employee when they were randomly selected to be the Grand Marshals of the Disney Parade during one of their last vacations together.
Even though the ending is not what Amy wanted, she is embracing it with realism, hope, and strength. 

Throughout this 5 year journey, Amy wrote a journal. Shortly after Seth's passing, she used these journal articles to create her first book, The Apple of My Eye – Trusting God's Guidance When We Can't See. I haven't even begun to describe all of the stresses that this family endured during those 5 years. A cancer diagnosis is only part of the story.

This book is an incredible account of their journey, but it is also so much more. It is a book of hope for those who have unspeakable suffering. It also gives other's suggestions on how to help those who have unfortunate and stressful situations in their lives. 
Will you help me support Amy? Here are my requests. 
1. Watch Amy's video describing her book here.  
2. Check out Amazon here to purchase her amazing book. 
3. Go to Amy's website here to follow her blog of amazing articles and to see her incredible photography skills. 
4. Please like her on Facebook here to follow her new announcements and journeys. 
5. FREE BOOK GIVEAWAY – Sign up for a FREE Apple Of My Eye book – I have 2 books to give away in a raffle through Rafflecopter. Go to http://www.rafflecopter.com/rafl/display/c9c526b31/? for information on how to be put in a drawing for this wonderful book. There are many opportunities to gain points for this raffle. You have 1 week to be included in this drawing.

Thank you for supporting my friend and fellow speech-language pathologist. Amy is going to accomplish wonderful things. Let's all give her boost to get started. 

Thank you again!Rachel Arntson, Speech-Language Pathologist,  M.S., CCC-SLP Owner, Talk It Rock It